Launching The VanaLiffey Lord Mayor of Dublin Alison Gilliland said:
"I welcome this service development, we know that Dublin has a significant level of drug use on our streets and Ana Liffey is always there working with people to create opportunities for meaningful change, in partnership with other stakeholders."
The Lord Mayor continued:
"It's reassuring to know that Ana Liffey are constantly thinking of ways of reaching this vulnerable group of people – supporting them in a way that is useful and meaningful to them.  I wish Ana Liffey the best of luck with the delivery of this mobile harm reduction service."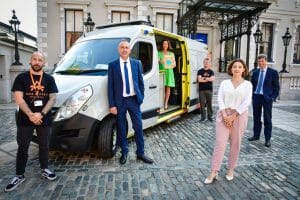 Tony Duffin CEO of Ana Liffey said:
"It is our experience that bringing the service to the person works.  We know that the people we work with, who use drugs in the streets, are at significant risk of harm; and are wide-open to overdose, vein damage, blood clots, exposure to blood borne viruses and more harms besides."
Duffin continued:
"We began the service on 1st July 2021.  The people we are reaching with this mobile unit experience exclusion and find it difficult to get from the alleyways of Dublin into the range of support services that are available to them.  Through our work we meet people where they are at psychologically and in this instance literally where we find them in the streets.  This mobile unit is having a positive impact on the streets of Dublin."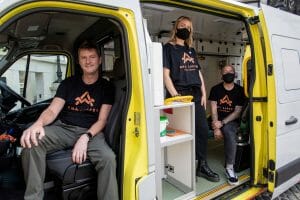 People who use drugs are at risk of overdose and other drug related harms.  The most obvious harm is fatal overdose. However, there is potential for many more harms associated to using drugs – depending on the type of drug; the potency of the drug, the administration route of the drug; the environment and context the drugs are used in. The people Ana Liffey reach with The VanaLiffey also experience non-fatal overdose which can cause damage to the lungs, heart, brain, etc.
Ana Liffey provides this service on a dynamic responsive basis in various locations around Dublin City Centre. Ana Liffey visit locations where drug use and/or overdose is known to be an issue.  The aim of the service is to meet people's needs in various locations and in doing so, both improve their lives and improve the safety of the locations visited.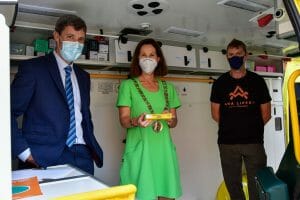 This community-based care approach, which brings the service to the service user, is in line with Goal 2 of the Sláintecare Implementation Strategy i.e. to 'Provide high quality, accessible and safe care that meets the needs of the population'.
The mobile harm reduction unit is supported by HSE Social Inclusion Dublin North City & County. The service can reach many people who are homeless and who use drugs.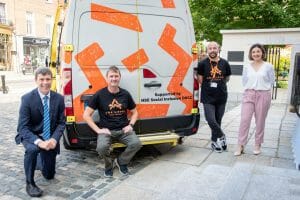 Donal Cassidy, HSE General Manager for Social Inclusion – Addiction Services in Dublin North City & County, said:
"People experiencing homelessness and who use drugs are more likely to die of overdose than the general population. They also face many other drug related harms.  This mobile unit delivers evidenced based interventions that are designed to reduce drug related risks and support people to make healthier choices. This mobile unit is a welcome development, as we continue to work collectively to reduce drug related harms – and the number of deaths year on year."