Community safety wardens will provide a welcoming presence in the area
The Local Community Safety Partnership (LCSP) welcomes the announcement of funding for the Community Safety Warden project by Minister Helen McEntee today at an event held in Dublin City Centre today.
The funding for the community safety wardens will be used to hire three new staff to work in the pilot area around Wolfe Tone Park and extending to Capel Street, Parnell Street, Mary Street and the surrounding areas. The wardens will provide a welcoming presence to the area and will perform an observe and report function highlighting any issues of concern to relevant community stakeholders including the Gardaí and Dublin City Council.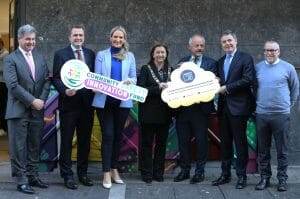 The wardens will also perform services which complement the work of public bodies, help to organise and coordination suitable events, work with local residents and businesses and welcome and assist visitors to the area.
Welcoming the news Cormac O'Donnchú, Chair of the North Inner City LCSP said "We look forward to progressing with recruiting and training our new community wardens and believe there is real merit in this pilot scheme. We visited our colleagues in Derry City and have seen how successful their community scheme has been."
Richard Guiney, CEO of DublinTown said "DublinTown welcomes the scheme and we believe that the Community Safety Wardens and the partnership approach involved can be an important step in making people feel more safe and welcome when they visit the city."
Karl Mitchell, Director of Services for Dublin City Council said "Dublin City Council has worked with local residents, businesses and other stakeholders to improve Wolfe Tone Park in recent years, we are further committed to improving the quality of life in the city centre for the people of Dublin and for visitors to the city. We welcome the additional supports that the Community Wardens can provide to the area."